Room of Wonders
During X–Festival the Agora of UH–Campus Diepenbeek will be turned into a 'Room of Wonders' with a continuous exhibition, including creative and visionary designs and new tech-demonstrators … and more wonderful exhibits …

© Rik Lempens

Question: how much CO₂ does a Fiat Cinquecento, or any average car, emit per day if you assume that it drives 15,000 km per year.

© Serge Minten

Answer: 220 balloons with a diameter of 18 cm.
Towardless: Plant-based Electrical and Art Energy

Bartaku & Janne Halme

The exhibition Towardless: Plant-based Electrical and Art Energy presents a selection of solar cells and research material that originate from art_craft, art_science and scientific investigations and the questioning of light, energy, bodies, and matter. Towardless presents work that has been evolving across various schools and labs of Aalto University since 2017. Its artistic inspirational foundations lie at the Baroa belaobara plantation in Aizpute, Latvia whereas the scientific and technical aspects arise from the research of dye-sensitized solar cells.

• Blck Vlvt: hand-painted solar panel with Aronia m-colorants based upon a painting by JMW Turner. Made in an art_science co-creation process.
• Blck Vlvt micro-observations video
• Archive solar cells from art and science research: photoprints
• Online video documentary, monograph and podcast

Towardless has been shown the first time as part of the Designs for a Cooler Planet 2021 exhibition of Helsinki Design Week, September 9-30, 2021

© Mikko Raskinen

© Serge Minten
Twenty Eight (Red)

Nils Völker

Especially for X-Festival 2021 Nils Völker invented an unique custom made breathing X in the same way as his choreographed breathtaking plastics, named Twenty Eight (Red). Nils Völker's installation will be exhibited from October 20-29 next to the entrance hall of the university campus in Diepenbeek.

Nils Vöker realised many different installations, experimenting with cushions of different shapes and sizes. None of his projects make use of objects you'd expect to see in an exhibition, and he's always finding things in his hoard to experiment with. A running theme in his work is the use of these mundane objects that are never really considered to be desirable or attractive, but in the way he uses them, are made into something elegant and graceful.

Don't miss this 'unique' spectacle!

© Jean Manca

© Serge Minten
Depth of Discharge

Marjolijn Dijkmans

The immersive film Depth of Discharge translates the seductive, captivating magic of 18th century enlightenment demonstrations into an abstract exploration of the roots of the nine different units used to measure electricity.

Her film is made with a high voltage electro-photography technique in which the artist uses a discharge plate made from a tin-coated sheet, the same material as used in touch screen devices. By making microscopic electric interactions visible, electricity becomes an actor in Dijkman's recent works, adopting an almost animistic character.

© Prince Lang
All Senses

Denise Peeters

At X-Festival her man-sized paper sculptures reminiscent of icebergs will enter into a dialogue with the Antarctica-exhibit (Prof. T. Van Autenboer-collection) on show on the X-Wall of Sciences in UHasselt-Campus Diepenbeek. In parallel with X-Festival 2021, her All Senses exhibition will be on display in the ECOTRON (Maasmechelen) until the 27th of November 2021.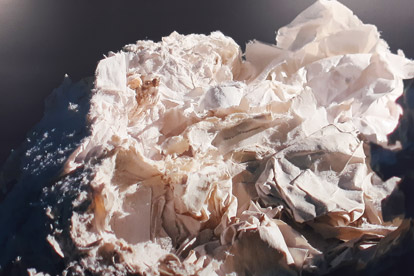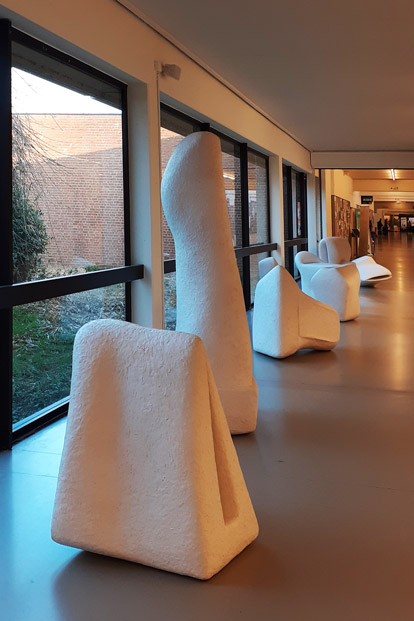 © Joël Neelen
In Order to Rise from His Own Ashes

Tuur Boeckmans

In Order to Rise from His Own Ashes is a welded structure of thin steel wires on which blackened houses are mounted, facing each other. These half-charred houses bear the traces of a moment, on top of the slag heap of the mine in Winterslag. That moment was captured and projected onto the wall as part of the installation. The link with the mining past was initially intentional, but for Tuur this somehow completes the circle. Images of a phoenix come to mind, but not only in the metaphorical sense. It's more of an argument to stand still, quietly in a world that is always focused on going faster and faster, to start again in the middle of a moment, alone, or like the two houses resting there: 'reborn'.
Think a Head

Frits Jeuris

Hasselt University has a real eye-catcher on campus Diepenbeek on top of X-LAB: a head made of Corten steel of no less than 2,700 kilograms, 5 meters high, 5 meters long and 3 meters wide. The head is the work of artist Frits Jeuris and from October 2021 will also serve as a new brainstorming room for professors, students and people from the professional field; Think a Head.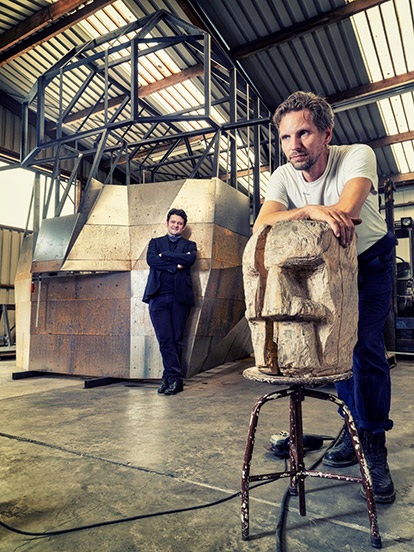 © Luc Daelemans

© TVL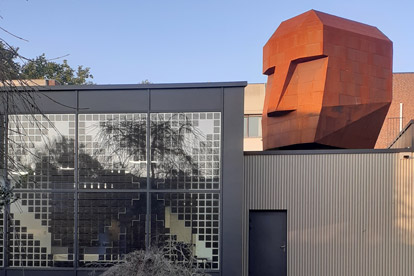 © Joël Neelen
BELGICA@ANTARCTICA

Tony Van Autenboer

Next to the educational visiting exhibit BELGICA@ANTARCTICA, a unique collection of photographs and instruments of Prof.em.dr. Tony Van Autenboer will be exhibited at UHasselt. Prof.dr. T. Van Autenboer (emeritus professor UHasselt) was geologist and expedition leader of several of the Belgian Antarctic Expeditions in the period 1957–1970. As one of the last explorer/researchers of the heroic age of polar exploration with dog sledges and no radio contact, he explored the Sor Rondane region, the last unexplored big mountain range on this planet.